Vehicle Maintenance in Purcell and Norman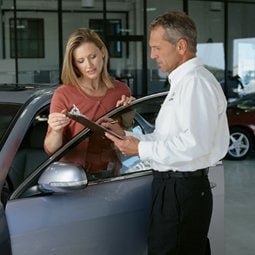 We have personalized vehicle service. Award-winning auto maintenance. Trusted employees. Quality parts.
Where else would you get the same level of care for your car?
Zeck Ford in Purcell, Oklahoma provides outstanding car maintenance to Purcell and Norman area residents. Don't settle for less than the best when it comes to your car.




Why Service At Zeck Ford Purcell?
Zeck Ford's service center is about more than just getting your Ford back on the road - it's about keeping your car in the best shape and extending its lifetime and performance.
Our facility is clean and maintained to the highest standards in the auto industry. We use state-of-the-art tools and maintenance techniques to make sure your car is treated the best always. Maintenance staff is composed of friendly and knowledgeable mechanics who know about a variety of vehicles. Most of our team has been with us for nearly a decade, and some of them even longer!
Did you purchase your car through Zeck Ford in Purcell? Then our team has already serviced it. We know exactly how it works and can provide customized maintenance based on our knowledge of your car and its needs.
What Services Do You Provide?
Think of us as your friendly neighborhood mechanic. The service you could get at a small mechanic shop - from oil changes, tire rotations, fluid checks, multi-point inspection, and full-on repairs, you can get here. Anything your car might need can be done in our clean and modern service center.
Unlike other service centers, we welcome walk-in service for most basic maintenance needs. Our crew works hard to get your car back to you while you wait. Usually, maintenance can be done same-day while you wait in our facility.
Do You Service Only Fords?
Although we are a Ford dealership, we do not service only Ford vehicles. Regardless of make or model, our competent staff can make sure that your car is well tended to and ready for whatever task you might need it for.
Need proof of our staff's ability to work on other cars? Check out any of our quality pre-owned vehicles. We get everything from the newest Ford cars to Chevy, Nissan, Toyota, and other popular brands showroom-ready for sale. Their cleanliness and road-readiness are thanks in whole to our dedicated and experienced team of Ford mechanics. Come in and test drive one of our pre-owned cars and see for yourself our mechanics' handiwork.
The Perks of Dealership Servicing
Whether you bought your car at Zeck Ford in Purcell or from somewhere else, you'll never get better vehicle service than at the dealership. Dealerships are committed to providing superior service because their livelihood depends upon it. They'll always have the latest technology, mechanics who are committed to preserving your car, and comfortable and clean shops where you can feel at home while you wait.
How To Schedule Service
To schedule service for your car, click here. Alternately, you can call us at (405) 253-4108 to set up an appointment for your vehicle. We're located at 2311 North 9th Ave. in Purcell and are open Monday through Friday from 7:30 am to 6:00 pm and Saturday from 8:00 am to 2:00 pm.